IMDEX LIMITED LEGAL INTERNSHIP OPPORTUNITY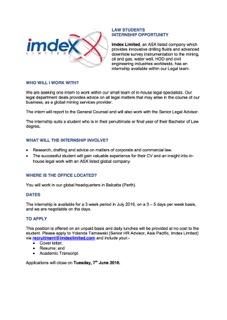 IMDEX are seeking one intern to work within their small team of in-house legal specialists. Their legal department deals provides advice on all legal matters that may arise in the course of their business, as a global mining services provider. The intern will report to the General Counsel and will also work with the Senior Legal Advisor.
The internship suits a student who is in their penultimate or final year of their Law degree.
The internship is available for a 3 week period in July 2016, on a 3 – 5 days per week basis.
This position is offered on an unpaid basis and daily lunches will be provided at no cost to the student. Please apply to Yolanda Tarnawski (Senior HR Advisor, Asia Pacific, Imdex Limited) via recruitment@imdexlimited.com and include your: - Cover letter, Resume and Academic Transcript.
Applications will close on Tuesday, 7th June 2016.
Please see the attached document for more information.