A Career With A.T. Kearney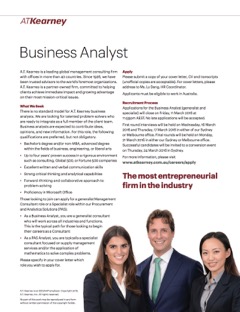 A CAREER WITH A.T. KEARNEY
A.T. Kearney is a prestigious global management consulting firm. We are a global team of forward thinking, collaborative partners that delivers immediate, meaningful results and a long-term transformational advantage to our clients and colleagues. We are talented problem solvers who work in a collegial way to create and implement elegantly simple, practical, and sustainable solutions. We seek people with a combination of analytical skills, academic excellence, and superior interpersonal attributes.
How To Apply
Applications are now open for final year students of all disciplines to apply for the 2017 Business Analyst program. We ask that you apply via our website at www.atkearney.com.au http://consultinguwa.us10.list-manage.com/track/click?u=a76404d22e6914b81c715136a&id=02ba57413e&e=f8a874087b: attaching a cover letter (please specify if you would like to be considered for a Business Analyst or PAS Business Analyst), CV and your academic transcripts.
Business Analyst positions are available in the Sydney and Melbourne offices. Successful applicants will be invited to participate in a combination of case and fit interviews. Applicants must be eligible to work in Australia.
Application Closing Date Applications for the 2017 Business Analyst positions will close at 11:59pm (AEST) Friday, 11 March 2016.